Dándole vueltas al taller para el tema Trabajos y el inglés. He pensado que algo básico a dominar es el spelling, escucharlo, entenderlo y saberlo hacer, y los números, en el contexto de los diferentes diálogos breves que se dan en los trabajos a diario, y también en la vida cotidiana de las compras, por ejemplo, y reservas. Una forma de empezar, y divertida, pues siempre es divertido lo de aprender spelling, y me encanta pillaros! Se puede jugar mucho con esto, quiero decir. Literalmente jugar. Y se aprende muy bien. Se me ocurre que esto podría durar un mes, cuatro talleres, pero más si la gente quisiera seguir, claro. No sé, exploraré. Decid algo si os interesa, vale? Feliz día!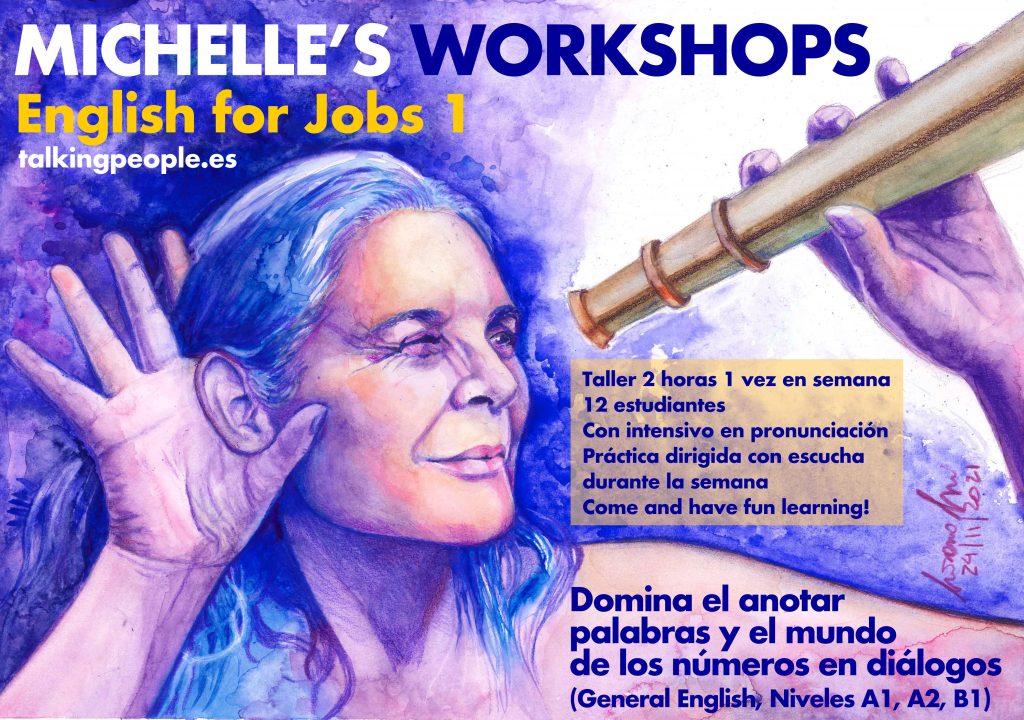 Texto del flyer: MICHELLE'S WORKSHOPS. ENGLISH FOR JOBS 1. talkingpeople.es
Domina el anotar palabras y el mundo de los números en diálogos (General English, niveles A1, A2, B1)
Taller de dos horas una vez en semana. 12 estudiantes. Con intensivo en pronunciación. Práctica dirigida con escucha durante la semana
Come and have fun learning!